Pololu Robotics Black Friday sale starts Wednesday
Created Mon, 25 Nov 2013 08:18:35 +0000 by BenPololu
---
BenPololu
Mon, 25 Nov 2013 08:18:35 +0000
Hello, everyone!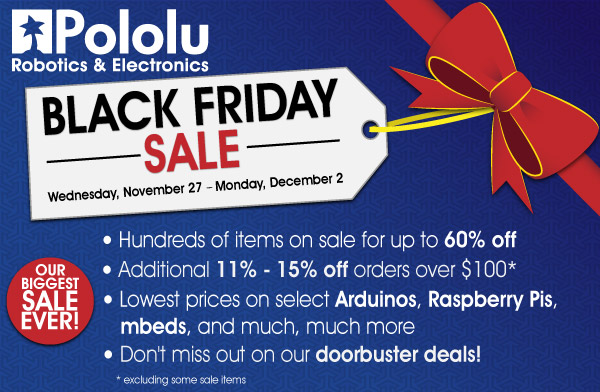 Pololu Robotics and Electronics is having its biggest Black Friday sale yet, discounting hundreds of sensors, actuators, motor controllers, and other robot parts by 30% to 60% and offering an additional 11% to 15% off orders over $100! Buy one Zumo Robot and get one free, save on a 3pi Robot and get a free programmer, and take advantage of great deals on select Arduinos and Arduino shields, Raspberry Pis, and mbeds. The first doorbuster deals go live Wednesday, November 27, and the sale runs through Cyber Monday (December 2).
Our Wixel and dual motor driver Arduino shields might be of particular interest (both are fully compatible with the chipKIT boards), but our other sale items can be used in a wide range of chipKIT projects, so there should be a little something for everyone.
We will be revealing more details, such as a complete list of sale items and discounts, over the next few days. Keep an eye on http://www.pololu.com/blackfriday for updates!
---